Farshaxan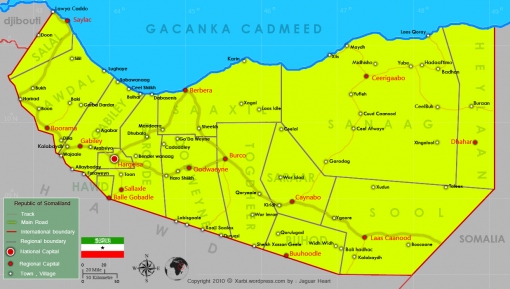 Farshaxan
Somaliland: Alternatives to Independence?
Nairobi/Brussels, 28 July 2003: The question confronting the international community is no longer whether Somaliland should be recognised as an independent state, but whether there remain any viable alternatives.
A new report released today by the International Crisis Group (ICG), Somaliland: Democratisation and its Discontents*, says recent developments have made the choice considerably clearer: develop pragmatic responses to Somaliland's demand for self-determination or continue to focus exclusively on the unity of the Somali Republic – a course of action almost certain to open a new chapter in the Somali civil war.
Somaliland declared independence in 1991 and, although not recognised by any country, has followed an internally-driven process of political, economic and social reconstruction that sets it apart from the rest of the country. A plebiscite was held in May 2001 on a new constitution and local elections in December 2002. The closely contested April 2003 Presidential election was a milestone. While the electoral process has not been without problems, Somaliland can claim to be more democratic than any country in the region.
ICG Senior Analyst Matt Bryden said: "Somaliland's increasingly credible claims to statehood present a diplomatic dilemma just as southern Somali leaders are meeting to establish a new Somalia government. But its creation would be likely to displace the locus of Somalia's conflict, not resolve it. And a negotiated settlement is unlikely to bear fruit at this point".
"The solution for the time being may be to grant Somaliland some kind of increased international profile without formal recognition – such as observer status at the UN, African Union and the regional Inter-Governmental Authority in Development (IGAD)", said John Prendergast, ICG's Special Adviser on Africa. "This could help to prepare the ground for eventual negotiations between Somaliland and Somalia".
Meanwhile the Somaliland government should demonstrate a genuine commitment to pluralism by releasing political detainees, withdrawing a restrictive proposed media law, accelerating the timetable for parliamentary elections as a means of widening participation in government and ensuring a full transition to a multiparty system, and investigating human rights abuses.
Donor governments can help by providing training and financial assistance to political parties and exploring options for providing Somaliland with access to direct bilateral and multilateral financial assistance. The UN, African Union and IGAD should also adopt a more open-minded approach to the question of Somaliland's ultimate status.
---
Media Contacts: Katy Cronin (London) +44 20 7981 0330 media@crisisweb.org
Francesca Lawe-Davies (Brussels) +32-(0)2-536 00 65
Jennifer Leonard (Washington) +1-202-785 1601
*Read the ICG report in full on our website: http://www.crisisweb.org/
---
The International Crisis Group (ICG) is an independent, non-profit, multinational organisation, with over 90 staff members on five continents, working through field-based analysis and high-level advocacy to prevent and resolve deadly conflict.
---